À Coeur Ouvert
"À Coeur Ouvert" is a graphic novel created by our association in 2014 with the help of several talented and engaged authors who plotted and drew this work. Many thanks to the authors: Alex-Imé, Emmanuel Beaudry, Antoine Dodé, Miran Kim et Sofia as well as Catherine Avel (Pinkmoloko) for the print page layout.
We would also like to thank the association On a Marché sur la Bulle, a comic strip association in Amiens who participated in the mounting of the project via the link with the authors, and who also accompanied us with our responsabilities as the publisher of this graphic novel.
This comic strip contains everyday typical stories, but that share the common theme of self-acceptance and coming out: a young girl who bursts out in tears in front of her best friend, a work colleague who speaks truthfully with his work buddies, a person who doesn't want to lose their mother or a youth who can't find their place in our binary world...
If you would like to know more about this project, a video by the association CARMEN is available on our YouTube channel. To read this work, you can ask the association, you can also come see it during any fair.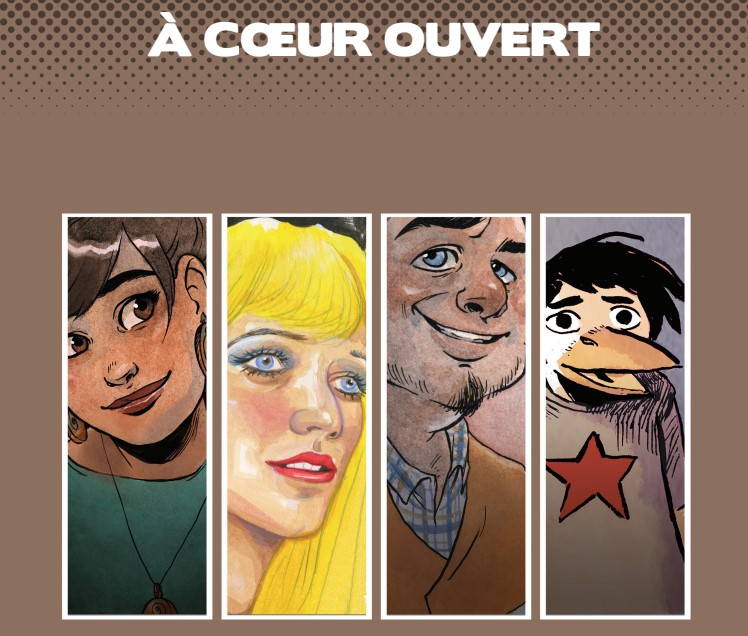 The beginning of the project​
We know, once it's said out loud, it can only get better. Because we know who we are, even if others aren't ready to understand everything or accept it.
In a difficult context, we, as an LGBTQIA+ association in Amiens decided to take the bull by the horns and publish our own comic strip, communication tool pragmatic and playful, to denounce violence while being reassuring. The tone is meant to be light, because this important theme must be treated simply. More than 350 people testified in-person or online, or participated financially in this project.
Some of them will see themselves in the artists' bubbles.
The stories​
Four stories were worked on with the members of the association. They represent the acronym LGBT, lesbian, gay, bi, trans.
For each letter, we wanted to present different experiences of coming out. The characters evolve with their families, friends and at work. This diversity shows the complexity of LGBTQIA+phobias, and also introduces all of the partners that worked at our sides.
We wanted this project to be available to the largest amount of people. This graphic novel is a real starting point for discussions and raising awareness.
A reality​
We found it important to denounce LGBTQIA+phobias, especially via concrete statistics. Each story contains at the beginning several numbers which come from the SOS Homophobie report of 2014. The extracts of testimonies are those that we collected in our online questionnaire. We used the extracts which appeared the most frequently and voluntarily left out those with insults, although there were many. If this could represent a part of the violence LGBTQIA+ people can experience, the editorial choice desired to remain in an optimistic line, but also realistic in the sense that the journey of LGBTQIA+ people can only get more and more serene.
This work is created to be accessible to LGBTQIA+ youth but also for heterosexual adults who are facing, from close or afar, these questions.